Vortran Stradus VersaLase Multiple Wavelength Laser Module Controller
Summary:

Vortran Stradus VersaLase Multiple Wavelength Laser Module Controller

Author:

David Sweeney

License:

LGPL

Platforms:

All platforms (uses serial port)

Devices:

Default serial port settings:

|   |   |
| --- | --- |
| AnswerTimeout | 5 Seconds |
| BaudRate | 19200 |
| DelayBetweenCharsMs | 0 |
| Handshaking | Off |
| Parity | None |
| StopBits | 1 |
The Vortran Stradus VersaLase Controller controls Stradus VersaLase multiple wavelength laser modules via a serial interface.
The following laser features and operating status may be controlled and/or monitored for each laser housed in the Stradus VersaLase chassis:
Analog Modulation (External Power Control) ON/OFF [x.EPC = 1 or 0]
Base-Plate Temperature [?BPT]
Laser Diode Current [x.?LC]
Digital Modulation ON/OFF [x.PUL = 1 or 0]
Digital Peak Power [x.PP = ###]
Digital Peak Power Setting [x.?PP]
Fault Code [x.?FC]
System Firmware Version [?SFV]
Operating Hours [x.?LH]
Interlock Status [x.?IL]
Laser Emission ON/OFF [x.LE = 1 or 0]
Laser ID (Serial Number, Part Number, Nom. Wavelength, Nom. Power, Circular or Elliptical Beam) [x.?LI]
Operating Condition (Fault Description) [x.?FD]
Laser Diode Power [x.LP = ###]
Laser Diode Power Setting [x.?LPS]
When switching Laser Emission to "ON", laser power and laser current information may not be immediately available.
The cause for this is the laser's default 5 second delay between initiating laser emission with a serial command and the actual turn-on of laser emission. If using the Device/Property Browser, simply click the "Refresh" button. For a long term solution the delay may be disabled. To disable the delay, use a terminal program and type "x.delay=0" followed by Enter at the Stradus prompt. This setting will be remembered by the laser until changed.
Lasers will automatically be shut off when Micro-Manager closes but power remains on.
Switching power off and on or turning laser emission ON within the Micro-Manager Device/Property Manager will restore laser emission.
Below is a screenshot of a properly configured Stradus VersaLase: (Some property entries for Laser C and Laser D have been truncated in the photo)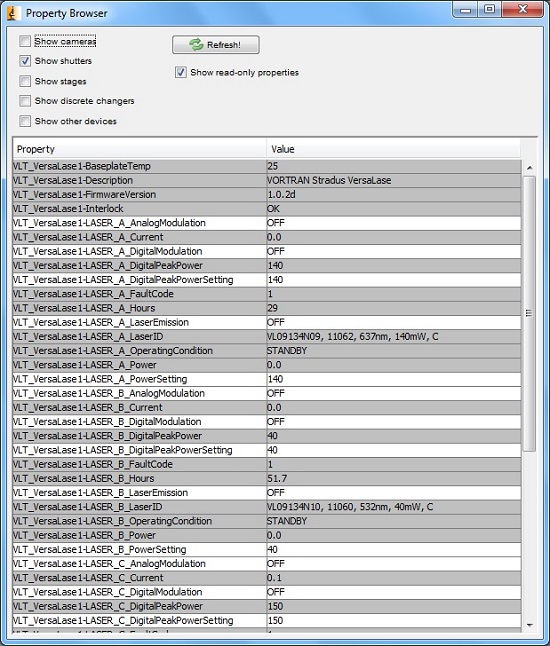 The Stradus VersaLase GUI software, shown below, which is included on the software CD shipped with systems may be helpful for initial configuration and testing of lasers in a Micro-Manager controlled system.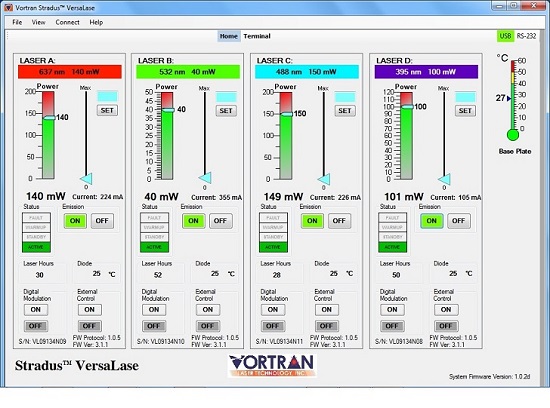 Questions regarding the VersaLase Micro-Manager device driver may be directed to: Vortran uManager Driver Support
Click here to search for Vortran on the Micro-Manager mailing list archive.