Vortran Stradus Laser Controller
Summary:

Vortran Stradus Laser Controller

Author:

David Sweeney

License:

LGPL

Platforms:

All platforms (uses serial port)

Devices:

Default serial port settings:

|   |   |
| --- | --- |
| AnswerTimeout | 5 Seconds |
| BaudRate | 19200 |
| DelayBetweenCharsMs | 0 |
| Handshaking | Off |
| Parity | None |
| StopBits | 1 |
The Vortran Stradus Laser Controller controls Stradus diode lasers via a serial interface.
The following laser features and operating status may be controlled and/or monitored:
Analog Modulation (External Power Control) ON/OFF [EPC = 1 or 0]
Base-Plate Temperature [?BPT]
Laser Diode Current [?LC]
Digital Modulation ON/OFF [PUL = 1 or 0]
Digital Peak Power [PP = ###]
Digital Peak Power Setting [?PP]
Fault Code [?FC]
Firmware Version [?FV]
Operating Hours [?LH]
Interlock Status [?IL]
Laser Emission ON/OFF [LE = 1 or 0]
Laser ID (Serial Number, Part Number, Nom. Wavelength, Nom. Power, Circular or Elliptical Beam [?LI]
Operating Condition (Fault Description) [?FD]
Laser Diode Power [LP = ###]
Laser Diode Power Setting [?LPS]
When switching Laser Emission to "ON", laser power and laser current information may not be immediately available.
The cause for this is the laser's default 5 second delay between initiating laser emission with a serial command and the actual turn-on of laser emission. If using the Device/Property Browser, simply click the "Refresh" button. For a long term solution the delay may be disabled. To disable the delay, use a terminal program and type "delay=0" followed by Enter at the Stradus prompt. This setting will be remembered by the laser until changed.
Lasers will automatically be shut off when Micro-Manager closes but power remains on.
Switching power off and on or turning laser emission ON within the Micro-Manager Device/Property Manager will restore laser emission.
Below is a screenshot of a properly configured Stradus Laser: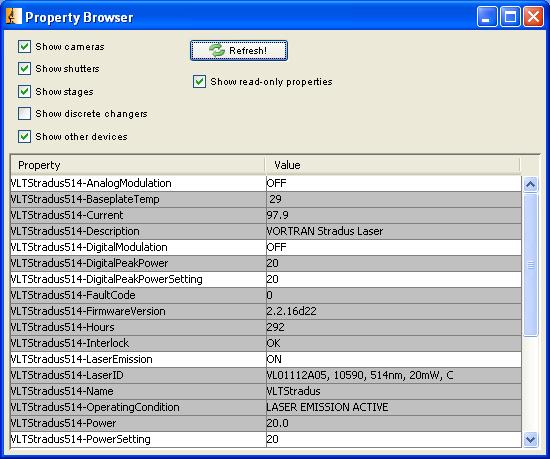 The Stradus GUI software, shown below, which is included on the software CD shipped with Stradus lasers may be helpful for initial configuration and testing of lasers in a Micro-Manager controlled system.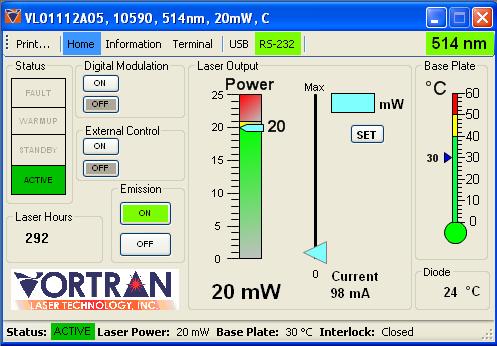 Questions regarding the Stradus Micro-Manager device driver may be directed to: Vortran uManager Driver Support
Click here to search for Vortran on the Micro-Manager mailing list archive.