| | |
| --- | --- |
| Summary: | Skyra Laser Controller |
| Author: | Karl Bellve |
| License: | LGPL |
| Platforms: | All |
| Devices: | |
| Since Version: | April 6, 2020 |
| Example Configuration: | |
Description
The Skyra is a multi-line laser from Cobolt.
The serial port
115,200 or 19200 baud,
no flow control,
one stop bit
no parity
8 data bits
delaybetweenChars 0 ms.
This driver supports automatic serial port detection.
Notes
Lasers will ignore the power setting for a few minutes while they start up. Re-set power/current after warm up is over
If the Laser has '''aborted''', you could issue a '''restart''' command via the Serial Command property, followed by a key cycle to restart the laser.
Device Properties
The new driver supports constant current, constant power, and modulation modes. Also, you can select Analog or Digital modulation. The ability to enable/disable Autostart is now supported. There is also direct serial communication supported via Serial Command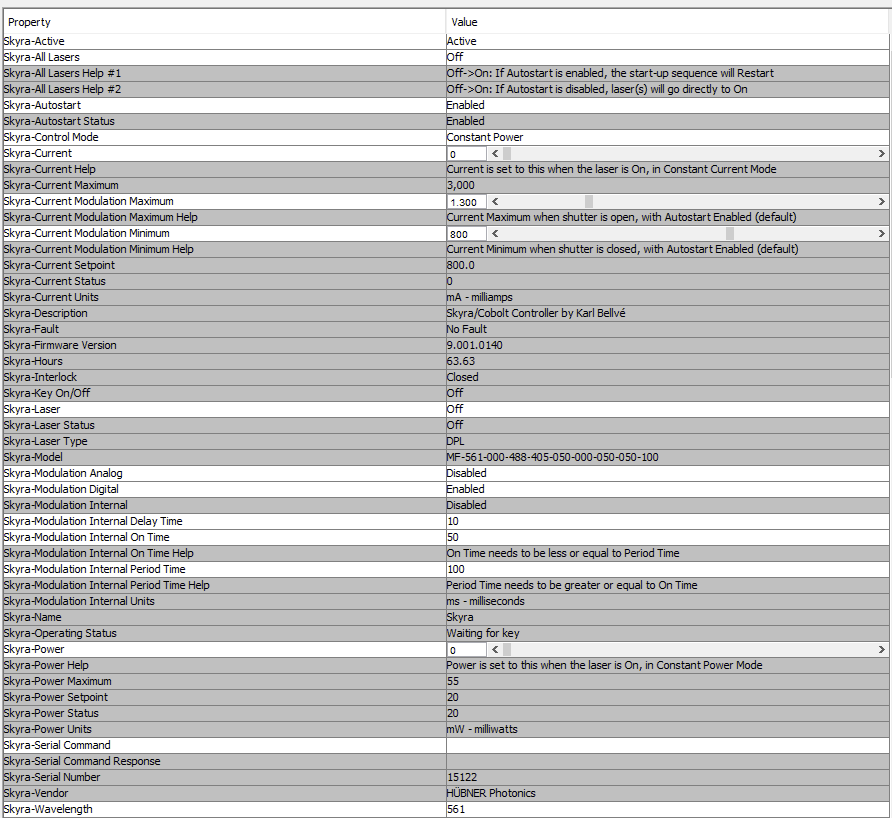 Click here to search for Skyra on the Micro-Manager mailing list archive.